AN ALL-IN-ONE MOBILE MESSAGING PLATFORM FOR ALL YOUR ENTERPRISE MOBILITY NEEDS.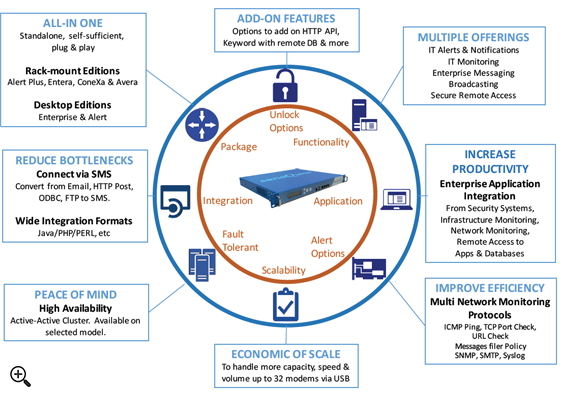 Our award-winning 'sendQuick' range of enterprise mobile messaging solutions are geared towards reducing and minimising disruption during systems and operations downtime and provide security and confidentiality of sensitive business data. They include IT Alerts & Notifications, Secure Remote Access via 2-Factor Authentication, Emergency & Broadcast Messaging, Business Process Automation and System Availability Monitoring. These solutions deliver better mobility responsiveness, improved internal workflow, and enhanced operational effectiveness. sendQuick is available on the following platforms: Appliance + Cloud + VM + Hosted (will send you the icons for these) Which platform is better for you.
---
all your enterprise mobility needs.
Why Choose sendQuick?
Easy to Integrate, Stability, Wide Compatibility, Great ROI, Stand Alone, Plug & Play.
Easy to Integrate
Uses Open API allows for seamless integration to various applications
Stability
Can be scaled for portability, rack-mounted or High Availability
Wide Compatibility
Multiple messages format (Email, SMTP, SNMP Trap, Syslog)
Great ROI
Can act as a centralized gateway for IT and Business Communication and Low Total Cost of Ownership
Stand Alone
Features an internal SMTP server, the only system in the market to do so.
Plug & Play
No software installation required and little administration is needed
Awards & Accolades