How can government & public services be more responsive, foster trust and communicate more effectively?
Government and public services need to be responsive and effective to facilitate the public. It is expected that they operate with strong governance, productivity and efficiency to uphold public trust and confidence and foster greater collaboration.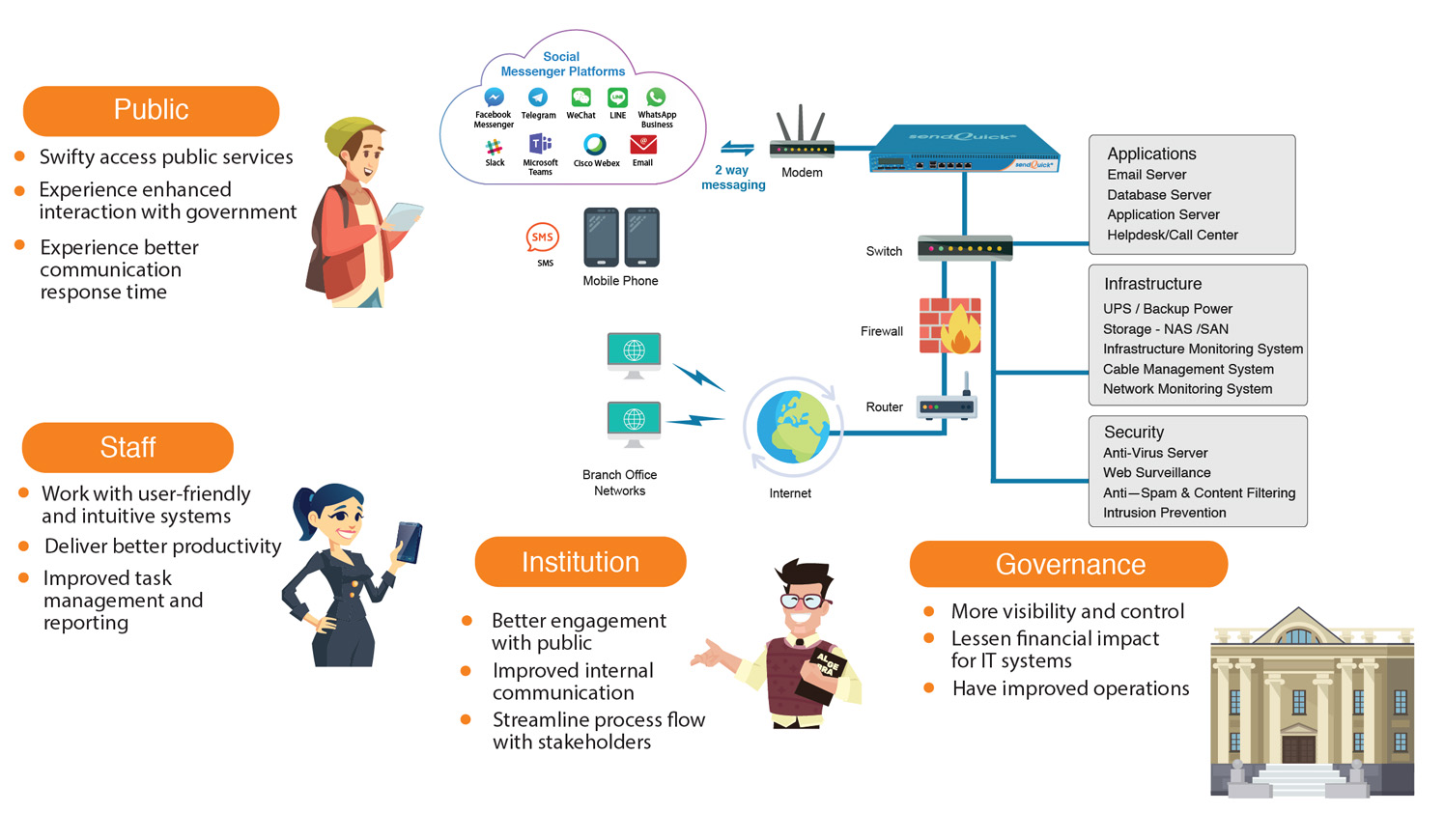 ---
How can you benefit from sendQuick:


Get More Engagement With The Public
We can integrate with your preferred enterprise applications to facilitate better communication. Our solutions are 2-way common messaging platforms, and send messages with high open-read rate. It is swift, direct and engaging all through their mobile phones.

Build Trust and Security
Not dependent on the internet to message, our solutions actually reduce the risk of cyber threats and security risk exposure. Our authentication solution can be used to enhance online security to provide convenient secure remote access to safeguard the public's sensitive information.

Automate Administrative Processes
sendQuick solutions can automate your administrative processes, freeing up limited resources for prioritized deployments. We offer rule-based escalation, delegation, responses, and other next-actions to help you simplify workflows and reduce red tape to achieve higher productivity and efficiency.

Provide Texting To Mobilize Emergency Services
We provide an alternate means to activate emergency services mobilisation directly and instantly. It is useful when verbal communication is not possible (such as when the recipients are hearing-impaired). sendQuick can help the public during mobilization thereby keeping them aware of updates at regular intervals.

Simplify Public Update to Agencies
Our solutions can receive and send short messages and notifications. The public can interact with relevant agencies to update their personal information, status, reporting of birth, death, or their relocation conveniently. sendQuick can facilitate message acknowledgements and confirmations.

Go Paperless with Texting
sendQuick solutions can be used with your preferred applications to send out paperless billings, payment reminders, service feedback, conduct quick polls, vote casting, job announcements, tender results, permit applications, etc. Our solutions is plug-and-play and easy to deploy for use.