How can the services industry stay focused on delivering great service, while reducing overheads to stay competitive?
Our solutions can integrate with various enterprise systems and applications that business services uses to deliver their commitments to customers. This reduces process bottlenecks and resource wastage to help with operational streamlining.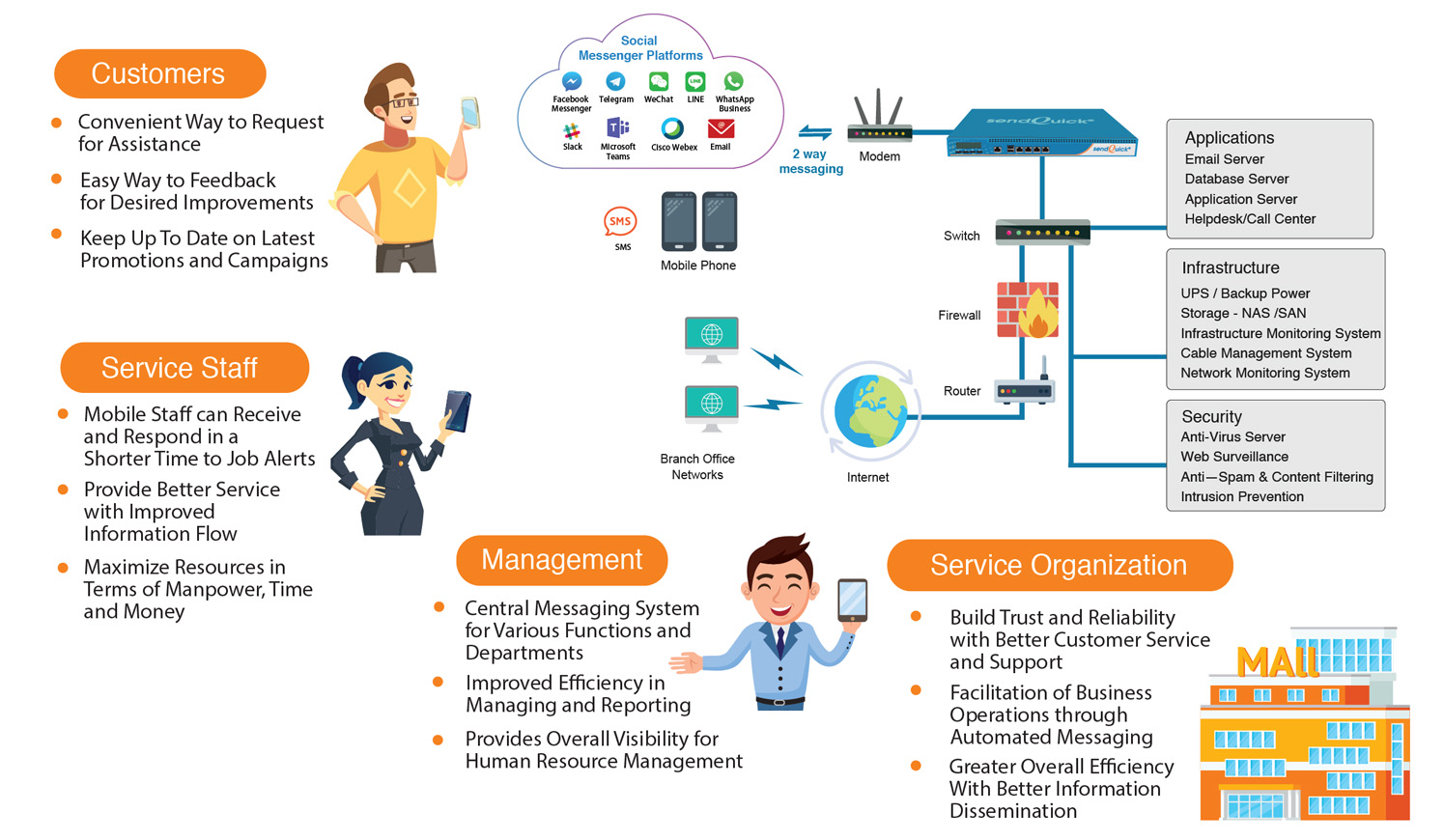 ---
How can you benefit from sendQuick:


Improve Service Quality
We can help improve a business' service performance by implementing scheduled rule-based actions for better resource utilization. sendQuick solutions can manage, delegate, or escalate tasks based on preset rules, making your business agile while allowing for responsive and productive engagements.

Retain Business Cost-Competitiveness
Our solutions can be used to manage and schedule activities while freeing up resources to focus on higher-value business-centric or customer-centric engagements. SendQuick solutions can help you reduce your TCO and capital expenditure by improving your productivity and effectiveness.

Reduce Your Operational Bottlenecks
We can help automate your business processes and workflows, either as a standalone system or as an integration with your preferred enterprise application or system. Our solutions can expand a business's messaging platform  through direct communication, ease of use by staff, and introduce availability of services to stakeholders.

Improve Customer Confidence
We can help you with reducing risk exposure and protecting customer confidentiality. The sendQuick platform does not depend on the internet to send messages, and this reduces cyber attacks and threats. Our business-friendly authentication solution does not require use of tokens or client-wares to be deployed, thus resulting in a lower TCO.

A Business Friendly Solution
Our solutions are 2-way-communication-enabled to allow for better interaction between you and your customers. sendQuick solutions send messages with high open-read rates, which you can leverage to conduct new sales and marketing activities.

Building Up Your Customer Base
Our solutions can help enhance your communication with your customers and prospects. Our broadcasting/enterprise messaging solution comes with a subscription option. It can seamlessly integrate with your Customer Relationship Management systems and makes for a robust engagement tool.