How can the transportation & logistics industry achieve better fulfillment operations and keep their customers happy, wanting to engage more?
The transportation & logistic industry is concerned with on-time pickups and deliveries, and to ensure cost competitiveness. Manpower deployment and management is a challenge because a lot of resources are spent on providing administrative support to internal and external customers.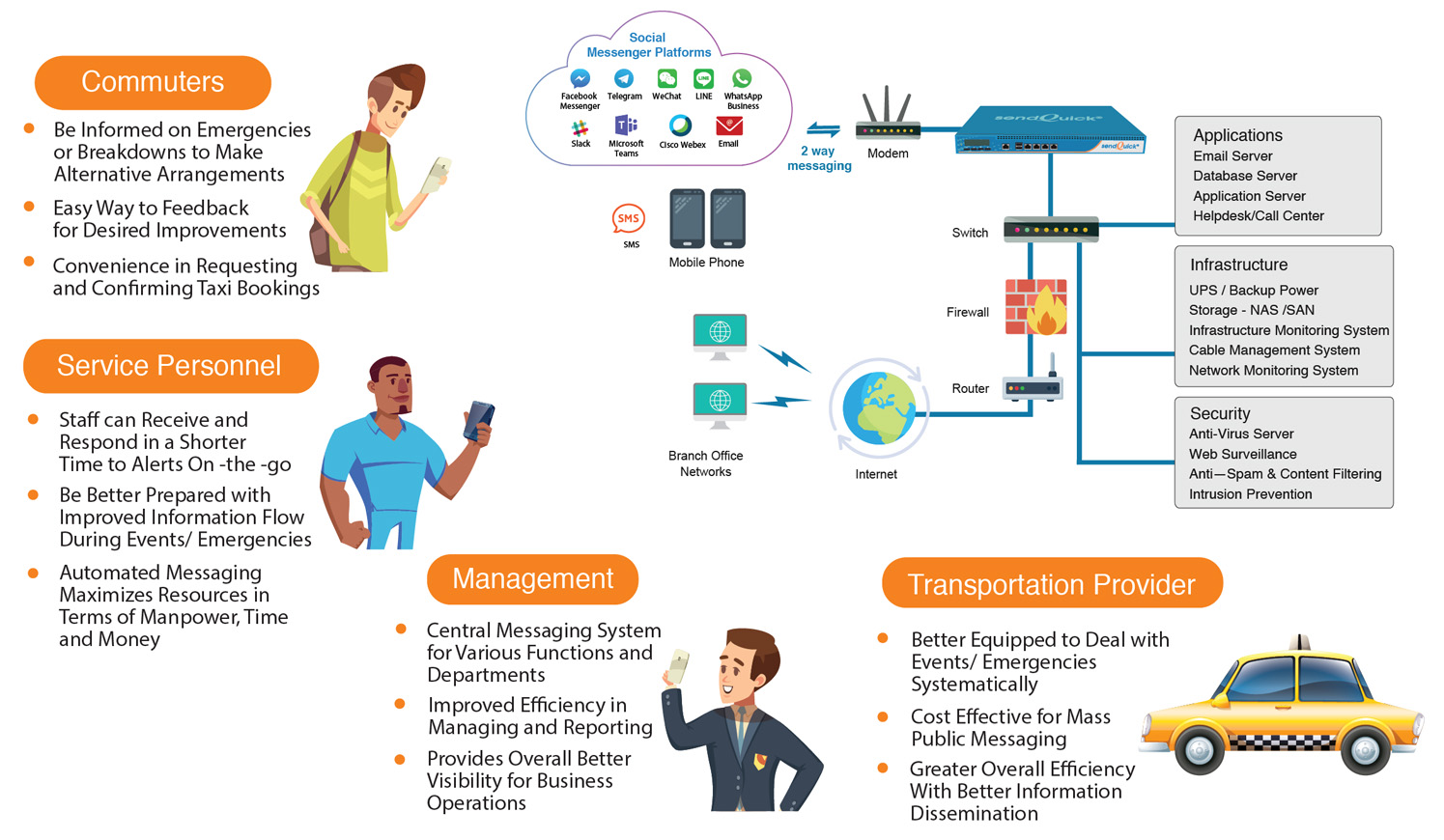 ---
How can you benefit from sendQuick:


Be Better At On-Time Pickups and Delivery
We can help you better manage pickup and schedule delivery schedules. Reminders and notifications can be sent to customers with up-to-date status reports and routing information. sendQuick can work with your preferred enterprise application to provide 2-way updates during when your shipments are in transit.

Shipment Visibility and Traceability
Our solutions can improve your shipment visibility. Sending out delivery alerts, report on statuses, and conduct service feedback to help you build better customer engagements and services. sendQuick solutions can be also be used to confirm receivership of delivery and provide paperless receipts.

Proactive Customer Service
sendQuick's 2-way messaging platform allows you to engage with your customers interactively – keeping them up to date on service matters that concerns their accounts. It can serve as an up-to-speed permission custodian as well as marketing promotions.

Secure Remote Access Made Easy
We can help you and your customers gain secure remote access without the use of tokens or client-wares. This reduces the risks of fraud, security leaks, or personal data abuses, especially when the clients need to engage via your web portals for sensitive transactions.

Reduce Paper Usage
sendQuick solutions can help you dispense paperless billings and delivery acknowledgement, and service updates. As a 2-way messaging platform, you can communicate similar practices to your customer to help reduce your carbon footprint which eventually also helps lower operating costs.

Instill Better Membership Management
We can help you stay in touch with past, current, and potential customers. The interactive engagement can foster better quality business relations and improve your workflows. You can instill a membership communication system with your CRM system for better engagement.