Minimise Cyberattacks with Two-Factor Authentication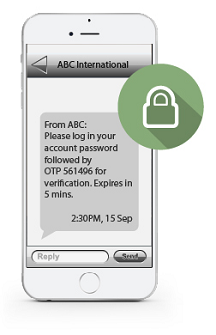 2-factor authentication (2FA)
is an industry accepted solution for remote user authentication. It provides an extra layer of security by sending a one-time password (OTP) to users via SMS, Mobile Soft Token or social messenging apps thereby minimising the risk of potential cyber attacks.
sendQuick ConeXa is the ideal solution for companies seeking low-cost and seamless 2FA implementation. It comes built-in with a server with One-Time-Password (OTP) generator capability and sends it across via SMS. It also includes a support for Soft Token OTP, supporting any standard SHA-256 soft token. End-users need not have access to the password via any other devices, apart from the ubiquitous mobile phone.
sendQuick ConeXa integrates well with your Active Directory or RADIUS and can support multiple SSL VPN sessions as required.
To find out more information or to request for a demo, please fill up the form.