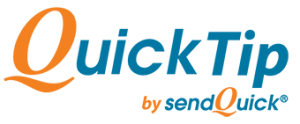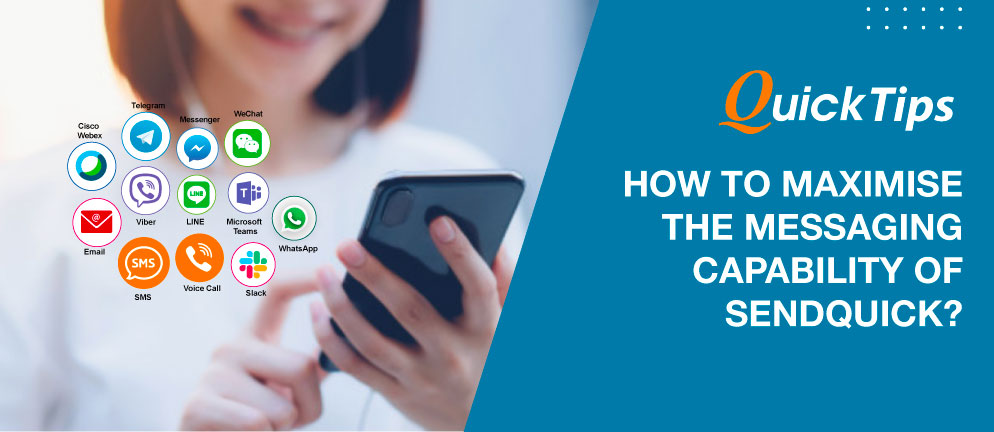 How To Maximise The Messaging Capability of

send

Q

uick



Do you know that you can send notification to on other channels besides SMS? How about sending SMS messages without requiring a modem and SIM card?
More than just a traditional SMS gateway, sendQuick is a comprehensive Notification Management Platform with rich features such as email filters, address book, rostering, escalation, and omni-channel messaging.
Today's QuickTip will focus on the messaging capability of sendQuick. Here are some things you can do when it comes to sending out messages via sendQuick.

Omni-channel messaging
Besides the traditional SMS messages, sendQuick now has the capability to send messages to social messaging platform via our Mobile Internet Messaging (MIM) module. This allows you to send notification to other popular channels such as Whatsapp, Telegram, WeChat, Messenger, LINE, Viber, Microsoft Teams, Cisco Webex and Slack
Modem with SIM Card
This method is still the most popular because it is more secure and allows out-of-band notification that requires no Internet access. If your internet is down, this method will ensure you can still get the SMS alert about it!
SMS Cloud via API 
If your requirement is to send high volume of messages (fast delivery) and to customise your Caller ID (your own NAME], this solution will suit you best. We have done the integration. Just configure some simple settings and you are ready to go!
SMPP Messaging
Still need SMPP to send messages? sendQuick supports SMPP3.4 as well. The connector is already built-in so just configure and we can send for you immediately.
And you can mix-and-match these various messaging options depending on your requirements by setting routing rules.
send

Q

uick

i

s the an omnichannel notification management platform that simplifies the way you deliver key information to mobile devices. Besides SMS,

send

Q

uick
can also automate messages to Social Messaging Apps such as Whatsapp, Telegram, WeChat, Viber, Line and many more. 
If you like to know more, feel free to contact us and we will help you find the most cost-effective solution for your requirements. 
Drop us an email at marketing@talariax.com