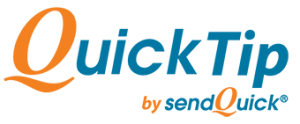 4 Simple Steps to Configure

send

Q

uick


for SolarWinds SMS Alerts
If you are using an Infrastructure Monitoring and Management Platform such as SolarWinds Orion, you will understand the importance of alerting the right person wherever they are, as quickly as possible, whenever there is a critical system fault.
For most cases, sending IT Alerts via SMS is the best option to reach your support engineers quick.
Here is how you can integrate SolarWinds with sendQuick, to send SMS Alerts via the Email-to-SMS method.


ADD
Add sendQuick as SMTP Server in SolarWinds
On the dashboard of SolarWinds Orion platform, navigate to the following item:
SETTINGS > All Settings > ALERTS & REPORTS > Manage SMTP Servers Click on ADD SMTP SERVER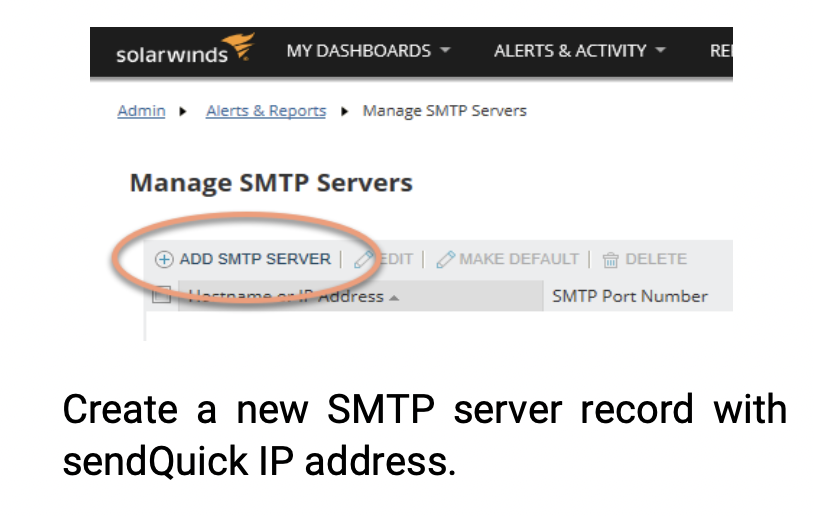 CREATE
Creatse a SolarWinds Email filter in sendQuick
On the sendQuick dashboard, navigate to: Filter Rules > Email Filter


Create an Email Filter for SolarWinds in sendQuick and make the necessary configuration for the SMS Alerts recipients.

(You can configure multiple recipients, rostering and escalation levels. Refer to sendQuick user manuals for more details.)
CONFIGURE
Configure Default Send Email Action in SolarWinds
To automate the process, set the email that was used in the email filter as the Default Send Email Action in SolarWinds. This is also under the "Alerts & Reports" section
ASSOCIATE
Associate SolarWinds Alerts with the Default Email Address
Finally, when configuring any Critical Alerts in SolarWinds, use Sending Email to the Default Email address as the "Trigger Action." and make the necessary configuration to send email to sendQuick.
Need to Send SMS Alerts?


Just Send an Email And Let send

Q

uick Do The Rest!
For a more detailed SolarWinds-sendQuick Integration Guide,
send a request to this email  hello@talariax.com
Besides email, sendQuick can also convert SNMP Trap
or Syslog messages to SMS.  
To find out if your infrastructure monitoring tool or IT systems can also
integrate with sendQuick, drop us an enquiry at marketing@talariax.com